THE LABEL COLLECTION
Intro • Germany • Netherlands • Belgium • Europe • USA • Others
Kikbier
Natuproducts B.V. (in Harderwijk)
Kikbier clearly derives its name from the Dutch words "kikker" (meaning frog) and "bier" (beer). This pilsener had a light yellow color with an off-white head. It had plenty of strong pilsener flavor but none of the terrible aftertaste or bitterness that is often associated with this type of beer. The 5.0% alcohol beer was cool and refreshing.
One won't find this beer in a normal liquor store but rather only in a special health food store. It is brewed using only organically grown barley. The frog is a common symbol for such nature products. Natuproducts B.V. also offers an alcohol-free version of this beer.
---
Mug
Brouwerij 't IJ (in Amsterdam)
"Mug" is the Dutch word for "mosquito" so it is somewhat appropriate that this beer is listed as a bitter. This top-fermented beer had a nice yellow color and white head. With a 5.0% alcohol content, it was a fine tasting and, well, for lack of a better description, bitter beer.
Brouwerij 't IJ is located in the large city of Amsterdam (situated in the province of Noord-Holland). The brewery is located by the IJ river and near a windmill which is often pictured on their very distinctive small diamond labels.
---
Arcener Winter Bier
Arcense Stroombierbrouwerij (in Arcen)
Arcener Winter Bier is labeled as an 'Extra Zware Bier' which literally translates to 'extra heavy beer', and that is exactly what it is with its 9.0% alcohol level. It's very light color, apple-cider like characteristics, and warming alcohol, however, all work well together to provide a lovely beer for the cold northern hemisphere winters. The label is cleverly designed from the point of someone peering in through a snow-draped stone window at a woman filling several large glasses of the strong beer in front of a roaring fire.
Arcense Stroombierbrouwerij is located in the city of Arcen in the southernmost Dutch province of Limburg.
---
Taboe
Bierbrouwerij Christoffel (in Roermond)
Spiced or fruit flavors are not uncommon for beer, but tobacco? Taboe is listed as a "tabaksbier" (Dutch for "tobacco beer") and does indeed live up to its name. The hazy dark reddish orange beer had a thin dark beige head. It smelled spiced and reminded one vaguely of a pipe. The taste was full, sweet, and malty with an odd fruity taste, perhaps of strawberries, yet nothing resembling tobacco. So where was the tobacco? Upon swallowing, one receives the answer. Suddenly the mouth is sucked absolutely dry and tobacco can be tasted all the way back to the throat. The effect is exactly as if one had just finished smoking a cigarrette. The somewhat higher alcohol content of 6.5% was surprisingly unnoticable.
Bierbrouwerij Christoffel B.V is located in the city of Roermond in the Dutch province of Limburg, a mere 30 minute drive from VB headquarters. The brewery makes many other delicious and interesting beers such as their Pombie, an apple beer.
---
Vier Granen Bok Bier
Jopen Bier (in Haarlem)
This top-fermented "Vier Granen Bok Bier" (or four-grain bock style beer) had a dark reddish, slightly orangish color with a medium beige head. It had a very nice fruity taste, slightly sweet and full flavored. The beer was rounded off by a nice moderate bitterness in the aftertaste. With an alcohol content of 6.5%, however, it should be enjoyed in moderation.
In the center of the label is the picture of a cooper or barrel maker (the symbol of the brewery), and in either corner is a small picture of a ram or "bok" (the symbol associated with this type of beer, although historically the name comes from a small city in Germany and not from a male goat). The brewery is located in the Dutch province of Noord-Holland and makes several other very yummy beers.
---
Koningshoeven Bier Likeur
Trappistenbierbrouwerij "De Schaapskooi" (in Berkel Enschot)
This off-white strong beer liquor is extremely thick and syrupy in texture. The smell contains pleasant aromas of liqorice and hazelnut. The taste is a bit nutty and very sweet; it tends to be quite addicting. There is, however, a strong taste of alcohol as well as an accompanying warm, even slightly burning, sensation. For most beer drinkers, this high 30% alcohol content may be a bit unnerving, but the beer liquor is definately worth sampling.

The liquor is produced using one of the brewery's delicious products, the La Trappe Dubbel - a dark beer with an alcohol content of 6.5%. Quoted as being "the best of Trappist beer in its purist form", the beer liquor was first distilled in 1895 using a recipe from a local monk.
The brewery, Trappistenbierbrouwerij "De Schaapskooi", is located in a Trappist monestary, one of only seven left in the entire world. The monestary itself was founded by monks fleeing from La Trappe (in Normady, France) during French revolution times. Around 1884, the monks started brewing beer because the ground wasn't good enough to raise sheep (or "schaap" in Dutch).
---
Ut Ötènde
Bierbrouwerij Tilburg (in Tilburg)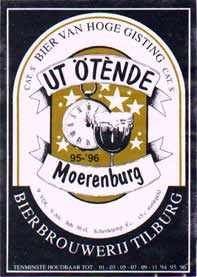 "Ut Ötènde" is just one of the many ways that a person could wish you a Happy New Year in a thick Dutch dialect. This top-fermented beer is all but guaranteed to start off anyone's New Year with a bang with its lovely dark color, good taste and amazingly high alcohol of 9.0% which is felt but certainly not tasted.
The city of Tilburg, for which the brewery is named, is located in the southern Dutch province of Noord-Brabant. Other beers by this brewery have been equally as tasty.
---
Lamme Goedzak
Scheldebrouwerij (in 's-Gravenpolder/Bergen op Zoom)
Translated as "dumb, kind soul", Lamme Goedzak is a top fermented, medium amber colored beer with 6.5 % alcohol. This fine drinkable beer is brewed with pale and caramel malt, Hallertau and Spalt hops, and candied sugar.
The two Dutch cities of 's-Gravenpolder and Bergen op Zoom are located in the most southwestern provinces of the Netherlands. The brewery also makes other wonderful beers with equally impressive labels such as De Zeezuiper and Wildebok.
---
Arcener Pilsener Bier
Arcense Stroombierbrowerij (in Arcen)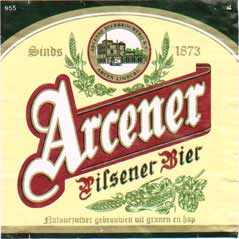 Arcener Pilsener Bier was a good example of a typical Dutch pils style beer. It had relatively light yellow in color and was highly carbonated. It had a bitter hop taste and a strong bitterness overall, especially in the aftertaste. This 5.0% alcohol beer therefore goes very well with food, especially with some of the traditional heavy dishes of the area.
Arcen is located in the province of Limburg, and is only about a 25 minute drive from the Vermin Brewing headquarters. The founding date on the label reads "since 1873", but in 1995 the brewery was purchased by Interbrew (a large conglomerate). The brewery still makes a wide variety of beers on the brewery grounds and even offers tours of the facilities.
A picture of the brewery can be seen on this label. The simple yet attractive label is also decorated with some lovely old woodcut style pictures of hops and barley.
vbteam@verminbrewing.com
©2018